Coronavirus: Ryanair flyers must ask for loo as flights ramp up
|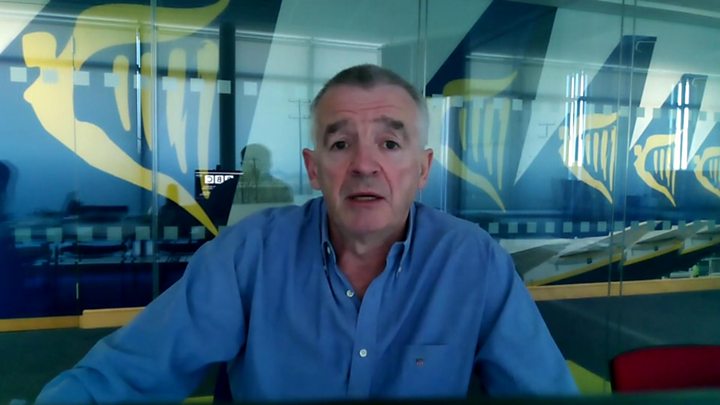 Ryanair passengers will have to ask to use the toilet as new safety measures are introduced by the airline.
The carrier plans to reintroduce 40% of flights from 1 July, subject to travel restrictions being lifted and safety measures being brought in at airports.
The airline will operate nearly 1,000 flights a day, bringing back nearly all of its pre-Covid 19 route network.
Other new rules include face coverings being worn by all crew and passengers and cashless on-board transactions.
Queues for the toilet will be banned during flights and passengers will have to request access from crew members.
Ryanair will ask its passengers to check in online and bring fewer bags, while they will also have to download their boarding pass to a smartphone.
On arrival at the airport, people will have their temperature checked and will have to wear a face mask or covering at all times in the terminal and on planes.
The company says it uses air filters in its planes similar to those used in critical hospital wards and that all interior surfaces in planes are disinfected every night.
Since restrictions began in March, Ryanair has only operated 30 flights a day between Ireland, the UK and Europe.
Social distancing 'not needed'
Ryanair boss Michael O'Leary, who last month said that leaving the middle seat free to help social distancing was "idiotic", said he planned to sell as many seats as possible this summer.
"The business only functions when we can sell most of the seats on most of the flights," he told BBC Breakfast.
"We accept in July and August that the load factors will be lower than that, but we don't need social distancing.
"In fact the government has already recommended that where social distancing isn't possible, wear face masks. That is the effective measure against the spread of Covid-19, not the ineffective measures like a 14-day isolation that nobody will observe anyway."
He added that the flights in July and August would be largely taken by "lots of British families who will be going abroad for their two-week holiday".
"They'll have very little difficulty returning back well before the September restart of schools and isolating again at home for two weeks."
On Monday, Willie Walsh, the chief executive of British Airways owner IAG, said the new quarantine rules meant his company would have to review its plan to return to 50% capacity by July.