Coronavirus: What do I need to know if I decide to fly?
|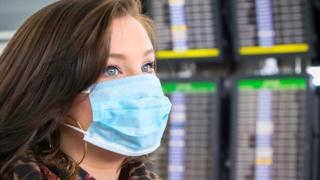 A two-week quarantine period is expected to come into force for anyone flying into the UK from abroad – except those arriving from the Republic of Ireland.
Prime Minister Boris Johnson has confirmed the measure will soon be imposed to try to prevent imported coronavirus cases infecting the population, but he did not address the length of the quarantine period or how it will be enforced.
Some airports are also introducing new rules on face coverings and gloves.
So what do you need to know if you're planning to fly during the Covid-19 pandemic?
What are the new quarantine rules?
UK airlines and airports say they have been told the measures will come in at the end of May. In a speech to the nation,Mr Johnson said he was "serving notice" that the quarantine measures would come in soon, but did not give a more detailed timeframe.
He added that the UK's falling infection rate meant introducing quarantine would now be more effective and prevent "re-infection from abroad".
It is expected that passengers touching down in the UK would have to self-isolate for 14 days at a private residence. Key workers such as lorry drivers who transport goods and people working in the shipping industry are expected to be exempt.
Speaking ahead of an official announcement, industry body Airlines UK said the policy needed "a credible exit plan" and should be reviewed weekly. UK airports fear the measures will have devastating impact on their industry and the wider economy.
What about face masks, gloves and temperature checks?
People travelling through Manchester, Stansted and East Midlands airports will now be told to cover their faces and wear gloves.
Passengers will be given face coverings and gloves initially. Airport staff will also wear them.
Manchester Airports Group, which owns the sites, said the measure will show "one way in which air travel can be made safe".
Some temperature screening trials will also be conducted at Stansted. Heathrow, one of the world's busiest airports, is already trialling large-scale temperature checks.
Chief executive John Holland-Kaye has called for a common international standard for health screening at airports "to build confidence in international travel".
Air France says passengers will be temperature checked before flying from 11 May. The carrier is also making face masks compulsory – similar to several US airlines.
What about social distancing on flights?
Aer Lingus has said it will review procedures following a claim it did not maintain social distancing among passengers on a Belfast-London flight.
EasyJet has said it plans to keep the middle seats on planes empty for a time once UK lockdown restrictions are lifted. Emirates and the US airline Delta have announced similar plans.
But Michael O'Leary, the boss of Ryanair, has said empty seats do not ensure safe social distancing and are financially unviable.
The International Air Transport Association (IATA), the body representing global airlines, says leaving the middle seat empty would not improve passenger safety. It says most airlines would not have made money last year if a third of the seats had been removed.
How many people are still flying?
Far fewer people are flying since the Foreign Office advised against international travel.
Between 16 and 22 April, for example, the number of air passengers coming into the UK was 99% lower than the same period in 2019.
American Airlines said social distancing had been possible "for all passengers", suggesting that its aircraft have a lot of empty seats. And Virgin Atlantic said many of its flights in April were only a quarter full.
Meanwhile, Ryanair carried 40,000 passengers in April – down from 13.5 million in the same month last year.
How safe is air travel?
If you have to fly, it's a common belief that you are more likely to become ill on an aeroplane, because you're breathing "stale" air.
However, according to the World Health Organization, the quality of air in a plane cabin is very carefully controlled and changed up to 30 times an hour.
However, there is a greater likelihood of the virus being transmitted if passengers are close together – usually as a result of an infected individual coughing, sneezing or touching surfaces.
This is the same as in any other situation in which people are close to each other, such as on a train or a bus.
What's the advice for air travellers?
Public Health England says passengers should sit as far apart as possible.
The National Travel Health Network and Centre – which was set up by the Department of Health – offers the following advice:
Avoid moving from your seat unnecessarily, but exercise your legs (flex and extend the ankles) to encourage blood flow
Only use the designated toilet for your area and wash your hands before leaving
If you start to feel unwell, stay in your seat and speak to the air crew
You should not be travelling if you are unwell, or if you have tested positive for Covid-19.