Coronavirus: When will schools reopen?
|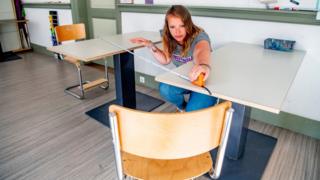 Schools across the UK have been closed to the vast majority of pupils since the end of March.
When – and how – will they return to anything approaching normal again?
Will schools reopen before the summer holidays?
Prime Minister Boris Johnson said on Sunday that primary schools in England might start to reopen from 1 June at the earliest. Any reopening would be conditional on both the R number, which is the virus's reproduction rate, and the number of new infections staying low.
He said pupils in Reception, Year 1 and Year 6 might be able to return in stages.
Mr Johnson added: "Our ambition is that secondary pupils facing exams next year will get at least some time with their teachers before the holidays."
However, there are no plans to reopen schools yet in the rest of the UK.
In Scotland, First Minister Nicola Sturgeon has said any return to school "might not be possible" before the summer holidays, which start at the end of June there.
Wales's Education Minister Kirsty Williams has said schools in Wales will not reopen on 1 June.
And in Northern Ireland, education minister Peter Weir has said a phased return in September is likely.
How would a phased return work?
A phased return could mean that a few year groups would be the first to return to school, or that pupils would take turns to study at home and in school. This would allow schools to maintain some level of social distancing.
It might also mean staggering break times and putting limits on class sizes.
A phased return may also mean that some pupils will not return until the autumn term – or at least for anything like a regular timetable.
Why are schools closed?
Coronavirus rarely seems to affect children, and some academics have questioned whether school closures have had any impact on controlling the virus.
However, the government's chief medical officer, Prof Chris Whitty, responded that while schools were "not dangerous" for children during the pandemic, the decision to close them would slow the rise of infections.
On top of how to manage social distancing, any school seeking to reopen has to consider other questions:
Should children return to school if they live with family members who are vulnerable to Covid-19?
How many vulnerable staff would need to be shielded?
What protective equipment might be needed for teachers?
Which pupils should be the first to return?
Robert Halfon MP, who chairs the Education Select Committee, thinks primary schools should be the first back. This would help parents and stop disadvantaged youngsters falling behind at an early stage, he argues.
But Geoff Barton, of the head teachers' union, says the priority should be Years 10 and 12, who are due to sit GCSEs and A-levels next year, and Year 6, where children are about to move to secondary school.
Others say it should be up to each school to decide the order in which its pupils return.
What's happening in other countries?
Denmark was the first European country to start allowing children up to the age of 11 back to school. Germany has also partially reopened schools for young children and those taking exams, with others to follow later in the term.
Primary schools and nurseries in France will reopen on Monday, with schools for 11 to 15-year-olds following a week later. Schools for 15 to 18-year-olds will open in June.
Schools in the Republic of Ireland will not reopen until August, while Italy and Spain are to keep their schools shut until September.
What's the current situation?
Schools, nurseries and childminders in the UK are still providing care for children whose parents are key workers "critical to the Covid-19 response", and who cannot be safely cared for at home.
They are also providing care for children who are known to be vulnerable – those with a social worker, for example, or those with special educational needs.
The most recent figures (30 April) show that 191,000 children are currently attending school – 2% of those who normally attend. Of that figure, 58,000 are classed as vulnerable.
How are children currently being educated at home?
Schools have tried to continue a limited curriculum online, relying on parents and guardians to supervise.
Educationalists say that parents should not be expected to do the teacher's job, but they can try to maintain a routine of learning and study habits – even if it's only for an hour or two a day.
To support home learning, the BBC has also launched a major programme of expanded educational content on its BBC Bitesize service, including regular daily lessons in English, Maths and other core subjects.
What about exams?
Summer exams have been cancelled in England, Wales and Scotland. This includes GCSEs and A-levels in England and Wales, plus primary school Sats national curriculum tests in England. In Scotland, Highers and Nationals will not be going ahead.
Exam watchdogs have been working together on alternative arrangements.
---
Have you been affected by the school closures due to coronavirus? Please get in touch by emailing haveyoursay@bbc.co.uk.
Please include a contact number if you are willing to speak to a BBC journalist. You can also contact us in the following ways: