Exeter Chiefs to drop Native American branding
|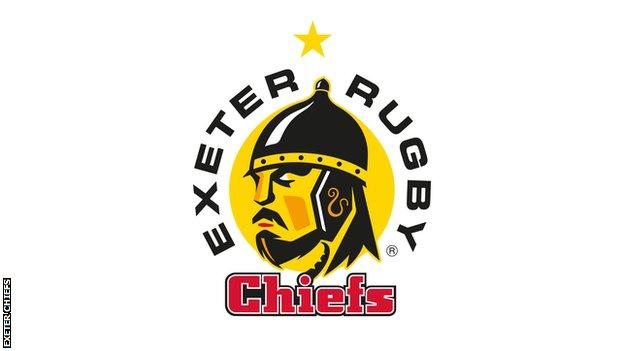 Exeter Chiefs are to end their Native American-themed branding this summer.
The club had been criticised for continued use of Native American imagery and announced last year they were reviewing their branding.
Exeter will keep their 'Chiefs' nickname but will now use imagery from the Celtic Iron Age Dumnonii Tribe.
"We are excited to welcome in the next era of rugby within Exeter," said chairman and chief executive Tony Rowe in a statement.
"Exeter has and always will be the most important term in our overall identity. The term Chiefs, however, is equally entrenched in our make-up, going back to over a century ago when teams in this region would regularly call their first teams that of the Chiefs," Rowe added.
"As a rugby club we have been willing to listen, we have consulted far and wide, and now we are ready to invoke change."
'The right moves'
The supporter group Exeter Chiefs for Change have led the calls for the club to get rid of their Native American branding.
It was their petition in 2020 which brought the issue to a wider audience and led the club to drop their mascot 'Big Chief', although they retained the rest of their branding including places such as the 'Wigwam Bar' and 'Campfire Grill' in their home ground at Sandy Park.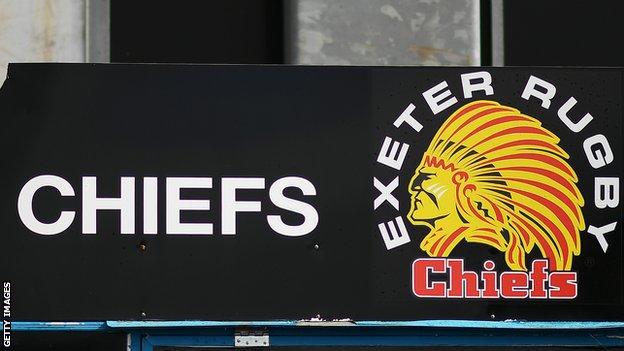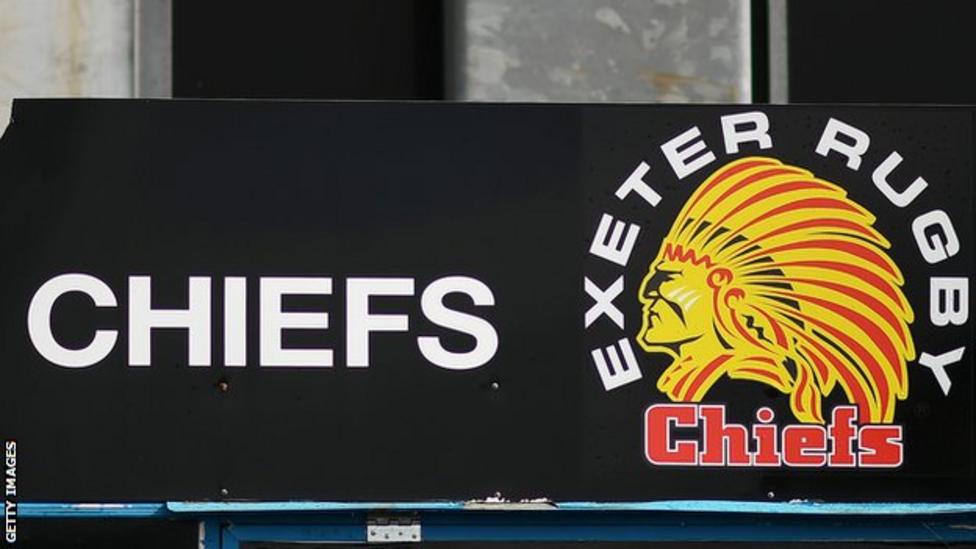 "I'm incredibly happy and proud to see the club finally doing the right thing and making the right moves at last," Alix Burhouse from Exeter Chiefs for Change told BBC Sport.
"All of us in the campaign were Exeter Chiefs supporters.
"When you have that connection to something already you're part of that community, so to be able to see the injustice that was happening and finally being paid attention to, to be able to use our platform as fans of the club, meant that we could amplify the voices of the people speaking out.
"It wasn't about what we wanted or what we felt, it was about making sure that people who had a reason to feel the way they did got the chance to be heard."
'Dehumanising stereotypes'
A number of clubs have asked visiting Exeter fans not to wear Native American-themed headdresses to their away matches this season after criticism of the club's branding by the National Congress of American Indians (NCAI).
In October Dante Desiderio, the NCAI's chief executive, said: "Native 'themed' mascot imagery and the dehumanising stereotypes it perpetuates must go."
In the United States, Washington's American football team dropped their controversial Redskins name and logo, while Cleveland's baseball team changed its name from the Indians to the Guardians.
Exeter's new imagery comes from the Dumnonii tribe, which the club say was based in Devon, Cornwall and parts of Somerset for "many hundreds of years before the Roman occupation from AD43".
At that time, Exeter say, historians believe people were "living in small kingdoms known as 'chiefdoms' which were ruled by high chieftains", thus providing a link to keep the term 'Chiefs'.