FA Cup: Behind the scenes with Kidderminster boss Russell Penn before West Ham tie
|
It is a big week for Kidderminster Harriers as they prepare for Saturday's FA Cup fourth-round tie with West Ham United at their Aggborough ground.
The National League North club hope to cause a huge shock by knocking out their Premier League opponents in front of the live BBC One television cameras, with kick-off at 12:30 GMT.
Throughout this week, Kiddy boss Russell Penn is counting down to the tie by taking readers behind the scenes at the club with his BBC Sport FA Cup diary, which will be updated daily.
Friday, 4 February: Hair and beauty
The hair and beauty salons of Kidderminster do not know what is about to hit them.
The players have been told that there will be television cameras inside the dressing room recording them before the West Ham tie, at half-time and full-time.
That's prompted a flurry of bookings for moisturising treatments and hair cuts although Jimmy O'Connor – my assistant – and I do not have to worry when it comes to a short, back and sides.
It's the eve of tie and, for me, the hardest day of the week.
This morning I will be announcing the team to the squad and I am under no illusion how difficult it is going to be telling some very disappointed players that they will not be starting one of the biggest games in the history of Kidderminster Harriers.
My task would have been made much easier had we been going into the tie on the back of a defeat, but we've won five out of seven since knocking Reading out in the last round.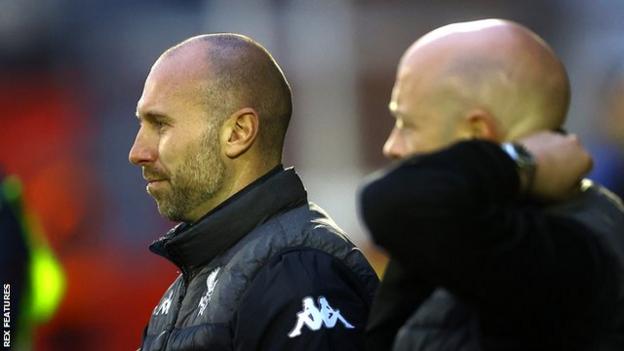 You have to stay strong in these situations and I need to pick a team I believe can stay in the game and present West Ham problems.
I am braced for some disappointing reactions which is why I'm revealing the team to the group 24 hours before the match. If I left it to the morning of the game then those omitted would be upset and annoyed for the rest of the day.
This way, they'll be able to sleep it off and they will arrive at the ground in a better frame of mine.
I'll be at Aggborough before 8am. I don't want to be racing around all stressed on a match day. I want to be able to have a cup of tea, a bit of breakfast, soak up the atmosphere and see the fans coming into the ground.
My speech in the dressing room 10 minutes before kick-off will be based on emotion. All the players will have family and friends in the sell-out 5,000 crowd and I'll be telling them to go and make them proud.
I'll certainly not be scaring them by telling them they are about to face a West Ham team that cost tens of millions of pounds.
On Sunday, I'm going to watch my son, Harley, play rugby union for Old Halesonians in Hagley.
My plans are likely to change, however, if we do pull off one of the great shocks. If that happens then you are likely to find me on a yacht in the Mediterranean sipping Champagne.
Thank you for reading my diary. Whether you are fortunate enough to have a ticket for the game or watching on BBC One, I hope you enjoy the game.
Thursday 3 February: World Cup and rock star royalty
Two days before the big game and I really need to phone my dad and talk red wine.
Post-match drinks with an opposing manager at National League North level might consist of a couple of cans of lager, but it's not every week Kidderminster get to host a Premier League club.
I am going to push the boat out and select a bottle of red and I'll invite David Moyes for a glass after the tie.
The trouble is I don't know my Malbec from my Shiraz, which is where my dad comes in handy.
On a serious note, I cannot wait to welcome David to Aggborough and chat to him about management. While I'm really just starting out, he has enjoyed a stellar managerial career spanning nearly 25 years and is someone I have incredible respect and admiration for.
The dugouts are only two yards apart so I'll be interested to see how David and his managerial team operate during the tie.
I've just caught sight of the VIP list for Saturday and it includes a World Cup winner and rock star royalty.
England's 1966 hero and West Ham legend Sir Geoff Hurst is coming and so too is Led Zeppelin star Robert Plant.
Like me, Robert is a passionate Wolves supporter, but Kidderminster is his local non-league club and he is a regular visitor to our games and was at the match on Tuesday.
It tickles me that while Robert's upcoming shows with Alison Krauss in the United States and Europe are selling out, he is watching Kidderminster against Leamington on a cold February night at Aggborough.
He sits with the rest of the fans and is very humble and down to earth.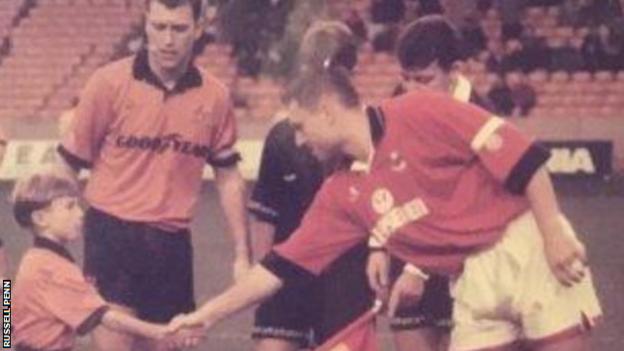 Today I'll be going through some analytical stuff on West Ham with my players. We'll keep training light and fun with a good vibe because the players have had eight games in 24 days. We'll round the day off with a swim at a local gym.
Things are starting to feel very real and there is great excitement around the club.
I walked into one of the rooms in the main stand yesterday and it has been transformed into a smart studio where Gary Lineker will present BBC One's coverage along with Alan Shearer and Micah Richards.
I was very tempted to go and sit in Gary's chair.
Yesterday's virtual news conference to preview the tie lasted about an hour and was attended by about 20 media outlets. I've heard Kidderminster's story has made the Toronto Star in Canada.
News is spreading fast and I feel like a kid at Christmas.
Wednesday, 2 February: Lost in London
Today I'm getting down to some serious prep work with my backroom team watching West Ham's defeat at Manchester United from two weeks ago in order to put a gameplan in place for Saturday.
Jimmy O'Connor, my assistant, and I have already seen West Ham live since the draw was made although our trip to London Stadium was not without incident.
We were in the crowd for their 3-2 home defeat by Leeds on 16 January but things did not go according to plan.
The game kicked off at 2pm and the last thing I said to my wife, Kylie, as I left the house early that morning was I'd be back back home by 7pm.
Ten minutes before full-time and having made loads of notes, Jimmy and I decided to make our way back to the car, which we had parked at a nearby shopping centre.
Could we find it?
We looked like two lost souls wandering the streets and it was a full hour after the game had finished that we eventually found the car. Then we had to fight our way through traffic and it was another four hours before I eventually walked through the front door.
The day before, we had played Darlington away so my wife and children saw very little of me that weekend.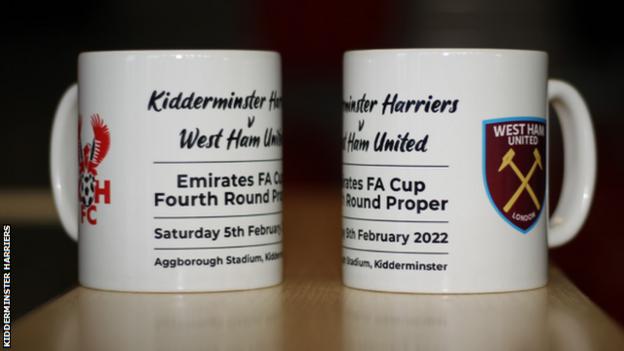 Saturday's tie feels a lot more real today after getting our rearranged game with Leamington out of the way. There was a real energy on and off the pitch as we ran out 3-0 winners to move to within four points of leaders Gateshead.
There was also an increased media presence at the game – the Guardian, Talksport and the BBC.
I'm sure David Moyes will have briefed his players what to expect this weekend.
But I can already tell them that the opposition dressing room at Aggborough is a world away from the luxury West Ham's players are used to in the Premier League.
It's clean but it's small and has wooden seats. I'm sure they're going to go 'oh my goodness' when they walk in but there are a lot worse places than Kidderminster.
By the time their players step out on to the pitch they'll be thinking 'this isn't that bad after all'. I think they will be pleasantly surprised.
Tuesday, 1 February: Cheese, wine and FA Cup fever
Now I know how Jurgen Klopp and Pep Guardiola must feel when they do the food shop.
Normally I am able to dash around my local Tesco without a care in the world, but not during FA Cup fourth round week.
I was still in my club training gear collecting the weekly groceries with my wife, Kylie, and children Harley and Lyelah on Monday afternoon when I noticed people pointing.
I could hear them talking about Kidderminster in the cup as we walked past the frozen peas. It was a surreal experience.
If I wanted a reminder of how momentous Saturday's tie is, I certainly got one after popping into the supermarket for some cheese and wine.
I've lost count of the number of people who have asked 'have you got any West Ham spares?'. I've even had people I haven't heard from for years text me wanting tickets.
Interest in tonight's match with Leamington is not quite on the same scale. Nevertheless our league attendances have increased on the back of our FA Cup run. To get 2,000-plus in National League North is not bad at all.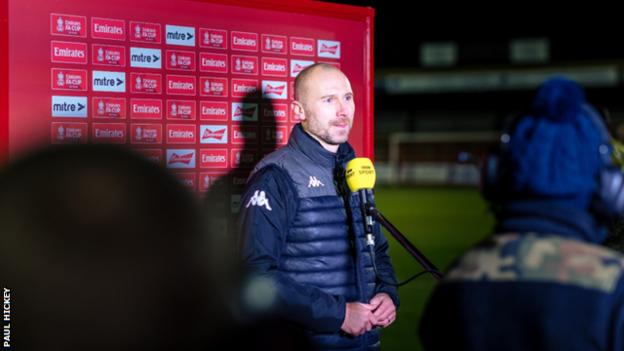 After tonight's game I'm up bright and early tomorrow for the school run before heading back to the club for our news conference to preview the big game.
Although Covid restrictions have been eased, the club made the decision to hold a virtual press conference to minimise the risk ahead of what is a lucrative tie for a club of Kidderminster's size.
A normal game would perhaps attract the local radio station and in-house club media. This week, however, is off the scale.
The last time I checked there were 30 television, radio and newspaper outlets from all around the world interested. I'm also due to speak to former England striker Rodney Marsh, who co-hosts a radio show in the United States, about Kidderminster on Friday.
The ground is starting to take shape for West Ham's visit. Scaffolding for the television cameras is starting to go up and there will be electronic advertising boards around the ground in place for the weekend.
Everyone has a spring in their step, from the coffee lady to the chairman, and we all want Aggborough to look its sparkling best on Saturday.
Monday, 31 January: 'All I'm thinking about is Leamington'
So here we are. It's Monday morning and the start of one of the biggest weeks in Kidderminster's 136-year history.
West Ham have been on everyone's lips since the draw was made – but in all honesty, all I'm concentrating on is our rearranged home league game with Leamington on Tuesday.
While the FA Cup run has provided us all with tremendous positives and once-in-a-lifetime experiences, winning promotion remains the number one priority.
Of course I would have liked a free week to prepare for a tie of such magnitude, but it is important we return to winning ways on Tuesday after a frustrating 0-0 against Gloucester City on Saturday.
I spent Sunday watching Leamington's 1-0 weekend win over Blyth Spartans on my laptop, planning Monday's training session and getting some fresh air by watching my 13-year-old son Harley play rugby union for Old Halesonians in Hagley, close to our home in Stourbridge.
My brother Michael played professionally for several clubs including Worcester Warriors and Edinburgh, so he must get it from him. Harley loves it and gets stuck in, while I have always been fascinated by the disciplinary side of rugby union.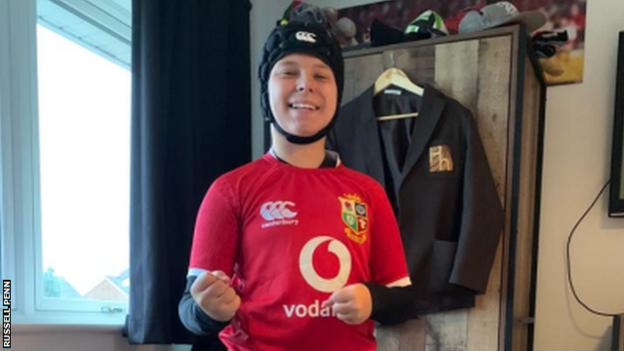 Before training on Monday, I'll attend a business event in the Aggborough Suite at the ground. Richard Lane, Kidderminster's owner, is trying to get more companies involved in the club. He is a salesman and pitches the club really well.
This is my first job as a manager and I'm learning an awful lot from him about the business side of running a club.
We are so close to the West Ham tie. I want the players to enjoy Saturday and all the media attention that comes with it.
We've had Sky Sports and Talksport at the club already, while the BBC One trucks will soon be arriving to get ready to broadcast to the nation.
I cannot ban my players from talking about West Ham before our league game on Tuesday. If I did that, how would that make me look?
But the sooner Leamington is out of the way, the sooner we can enjoy the build-up to Saturday.
Russell Penn was talking to BBC Sport's Neil Johnston.