My legal life: John O'Donovan, Harold Benjamin | Feature
|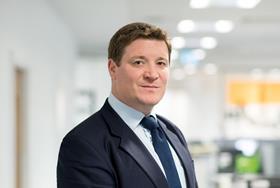 As part of my undergraduate degree (politics and economics), I had to do a law module which I did reasonably well and thoroughly enjoyed. Following university I spent a year travelling, and my first job after returning was in sales for corporate sports hospitality. This was conducted over the phone and really helped develop negotiation, persuasion and presentation skills. While being a lot of fun, the commission-based nature of it made me question whether longer term it was the right place for me.
I concluded that by marrying law and sales I could become a successful lawyer. I enrolled at BPP for the GDL (law conversion) and studied in the evening while continuing to work full-time, and the rest as they say is history.   
Working full-time and studying in the evening can be time-consuming, so after the GDL I ceased work and focused on the LPC for a year. I struggled to obtain a training contract, and with hindsight I think my experience in sales helped me to persevere. I joined a City firm as a paralegal. I obtained a training contract with the same firm which commenced in 2009, in the middle of the global financial crisis. This was a very fraught time for the firm and clients, but it did provide invaluable experience of both contentious and non-contentious work.  
There were many aspects to contentious work that I found interesting from both a litigation and insolvency perspective. Even now, I am sometimes required to lean on that experience. However, I found the relentless day in, day out confrontational nature of contentious work not to my liking. Transactional work, on the other hand, with its collaborative nature, and the general working towards a common goal was much more rewarding. This was the path I wanted to pursue.
After seven years in private practice, I thought it was time for a change, so began looking for another opportunity to progress my development and career. I was offered a newly created in-house role. It appealed as it was sitting within the business and separate from the main legal function. While private practice can be hierarchical, this role required much more collaboration and the ability to engage with a variety of other departments and stakeholders on a daily basis in order to be effective. In-house you are part of the legal services supply chain to the business. While providing proactive commercial advice is a given, it needs to be done efficiently and cost-effectively.
'There were many aspects to contentious work that I found interesting from both a litigation and insolvency perspective'
Career progression in-house is not without its challenges – the main one being there is not always a clear structured path. This means sometimes there are not that many roles available for progression. It is important to identify your motivation, whether it be type of work, remuneration, responsibility and so on, and then structure a plan to achieve it. The other benefit of being in-house is that outside legal there maybe something else that appeals.
After nearly nine years in-house, it felt like the right time for a new challenge. Harold Benjamin has ambitious plans and it felt like somewhere I could use my skills and experience to build the banking and finance team.
The pandemic has had a fundamental impact on the way we all work on a day-to-day basis. Working remotely and/or flexibly had long been a hot discussion point, but the pandemic made it something that had to be implemented and effective almost immediately. This has allowed some efficiencies, such as electronic signing, reduction in commuting times and unnecessary meetings. There are though still challenges to be worked through, such as the best way to maintain and develop relationships with clients. As well as ensuring collaboration within our teams and particularly for junior lawyers, there is also the issue of effective supervision and support.
I was once told to never waste a good crisis. Understandably times of crisis can seem particularly challenging, uncertain and anxious. At these points, it is important to accept where you are and set out the steps that need to be taken to get through the situation, even if they are small steps taken one at a time. Having worked through the global financial crisis, and now the pandemic, there have been plenty of lessons and experiences which I have learnt from. I would encourage all lawyers starting out to absorb as much as they can during these times and take every opportunity to get involved with different types of work to broaden their experience and skills.