Scottish exercise rule eased but disagreement over 'stay alert' message
|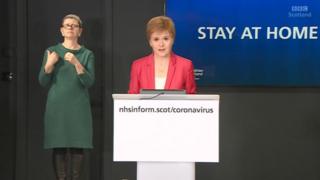 Scotland's First Minister has asked the UK government not to advertise its new "stay alert" message north of the border.
Nicola Sturgeon also said the devolved nations should not be learning about each others plans for the first time in the media.
She also stressed the situation remains "fragile" but confirmed an easing of the exercise guidelines.
From Monday the once-a-day limit will be removed.
But she said people must still stay close to home and emphasised the move does not extend to picnics, sunbathing or barbeques.
The first minister said the Sunday papers had been the first place she had seen the UK government's new slogan and admitted: "I do not know what 'Stay Alert' means."
Ms Sturgeon accepted the need for other parts of the UK to move at different speeds, based on scientific evidence and said she is committed to the closest possible cooperation.
But she added: "We should not be reading of each others plans for the first time in newspapers and decisions that are taken for one nation only, for good evidence based reasons, should not be presented as if they apply UK-wide.
"Clarity of message is paramount if we expect all of you to know what we are asking of you and as leaders we have a duty to deliver that clarity to those that we are accountable to, not to confuse it.
"To that end I have asked the UK government not to deploy their 'stay alert' advertising campaign in Scotland."
Ms Sturgeon added that the message in Scotland is not "stay at home if you can" but rather "stay at home full stop".
She was speaking after latest figures show the number of deaths has increased by 10 to 1,587, while the number of positive cases is now 13,486.
'Mixed messages'
The first minister said the R number "may be higher" in Scotland, where the first positive case was confirmed on 1 March, than other parts of the UK.
But she said "real progress" has been made in recent weeks and cautioned against easing restrictions too soon or sending out "mixed messages".
Ms Sturgeon added: "Let me be very blunt about the consequences if we were to do that. People will die unnecessarily and instead of being able to loosen restrictions, hopefully in the near future, we will be faced instead with having to tighten them.
"We must not take that risk."
Boris Johnson will address the nation from Downing Street on Sunday evening, setting out the next steps in England's coronavirus response.
'No idea'
The lockdown, which was announced on 23 March, has already been extended for another three weeks in Scotland, Wales and Northern Ireland to 28 May.
Earlier Scottish health secretary Jeane Freeman told BBC Politics Scotland the Scottish government had not been consulted on it and she had "no idea" what it meant.
"We have not been consulted on the possibility of any change and, as it has been reported, that is not a change that we would agree with," she said.
"I think the first minister was really clear last week that the 'Stay At Home' message is the right message and, if I am perfectly frank, I have no idea what 'Stay Alert' actually means."
The UK government wants the whole of country – not just England – to adopt the new "stay alert" message in the fight against the novel coronavirus, Communities Secretary Robert Jenrick has said.
He told the BBC's Andrew Marr that it is the right time to "update and broaden" the message to the public because "we've passed the peak" of Covid-19 cases in the UK.
Mr Jenrick explained that "stay alert" means "staying at home as much as possible" but "stay alert when you do go out by maintaining social distancing, washing your hands, respecting others in the workplace and other settings"
He argued that it is still "a cautious message because the rate of infection is still high".