Winter Olympics: Australian curlers cleared to return despite positive Covid-19 test in Beijing
|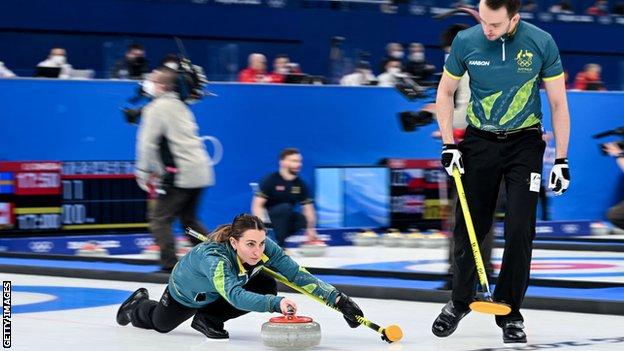 Australia's first curling Olympians Tahli Gill and Dean Hewitt have been cleared to continue at the Winter Games after initially being told to leave because of a positive Covid test.
Gill, 22, tested positive on arrival in Beijing but was cleared to compete after she produced two negative tests.
She then returned a positive PCR test on Saturday but a medical panel analysed her results and determined they fell into an acceptable range.
Australia face Switzerland on Sunday.
"The Australian Olympic Committee (AOC) has received an email from the Chinese Public Health System advising that the pair can continue under the Close Contact provisions," read an AOC statement.
"We are thrilled for Tahli and Dean and I am delighted that our headquarters team continued pressing her case, after earlier advice that the pair could no longer compete," said Australia's Chef de Mission Geoff Lipshut.
Australia played British pair Bruce Mouat and Jennifer Dodds in the mixed doubles competition on Friday.
Team GB said it had confidence in the protocols in place with daily tests for all competitors.
Gill and Hewitt are winless so far but four of their seven defeats have come in closely-fought contests by a single-point margin, including pushing the British pair to an extra end.